Traction Alopecia: Protecting Your Edges and Hair Health with Righteous Roots
Traction alopecia, often caused by tight braids or hairstyles, can lead to hair loss, particularly around the delicate edges of the hairline. But there's good news – you can prevent it by adopting gentle practices and with the help of Righteous Roots.
How to safeguard your precious edges and overall hair health.
Step 1: Choose an Experienced Braider

The journey to healthy hair begins with your choice of braider. Opt for an experienced braider who understands the importance of balanced tension. Looser braids, especially around the edges, are key to preventing traction alopecia. Communicate your preferences and comfort levels to your braider.

Step 2: The Role of Righteous Roots before during and after braiding.
Before Braiding:
Scalp Nourishment: Righteous Roots is your secret weapon. Apply it to your scalp and edges before braiding to keep the area well-hydrated. A nourished scalp is less prone to damage.

During Braiding:
Gentle Handling: During the braiding process, remind your braider to be gentle, especially around your edges. Tight braids can exert unnecessary pressure on your hair follicles, leading to traction alopecia.

Braid Take Down:
Detangling Magic: When it's time to remove your braids, Righteous Roots comes to the rescue again. It makes the detangling process a breeze, reducing hair breakage and preventing further damage.
.
Save with the Bundle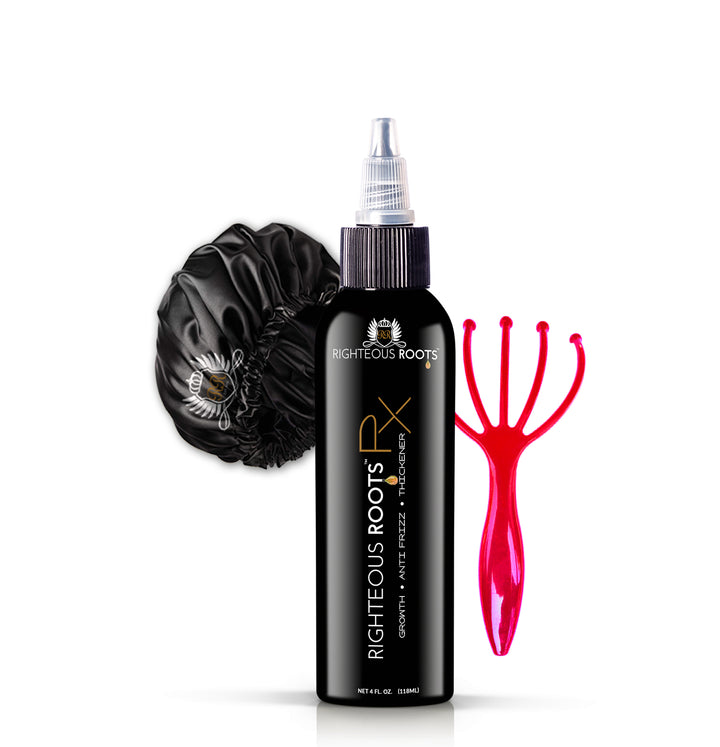 Step 3: Post-Braid Care.  After taking down your braids, do the following:
Scalp Massage: Treat your scalp to a relaxing massage with Righteous Roots. This helps stimulate blood flow and promotes healthy hair growth.

Moisture Maintenance: Keep your hair moisturized with Righteous Roots to maintain optimal hydration and prevent dryness.
SUMMARY:
Traction alopecia is avoidable with the right approach. By choosing an experienced braider, being gentle around your edges, and incorporating Righteous Roots Rx into your hair care routine, you're taking proactive steps to protect your edges and maintain overall hair health.
Say goodbye to hair loss worries and hello to thriving, gorgeous hair.