Righteous Roots: Restoring Confidence and Hair after Chemotherapy
As we celebrate Breast Cancer Awareness Month, it's essential to recognize the journeys of those who have battled cancer and the challenges they face, not only in their fight against the disease but also in its aftermath.
Hair loss is one of those challenges that can significantly affect a person's self-esteem. At Righteous Roots, we take pride in being a trusted partner in the journey of hair regrowth and recovery after chemotherapy.
Discover the Science of Caring for Your Hair with Righteous Roots.
1. The Power of Post-Chemo Hair Regrowth:
Chemotherapy is a lifesaving treatment, but it often leads to hair loss as a side effect. The emotional toll of losing one's hair can be immense. At Righteous Roots, we've had the privilege of helping several clients on their journey to hair regrowth. Our products are known for their nurturing properties, and many clients have trusted us to support them during this crucial phase.  Try Righteous Roots Rx

2. Fuller, Healthier Hair:
One of the key ingredients in our products that have made a significant difference in post-chemo hair regrowth is Jamaican Black Castor Oil (JBCO). JBCO is rich in vitamins and fatty acids that promote hair growth and strengthen hair follicles. The results have been remarkable, with clients experiencing fuller, healthier hair. Try Righteous Roots Rx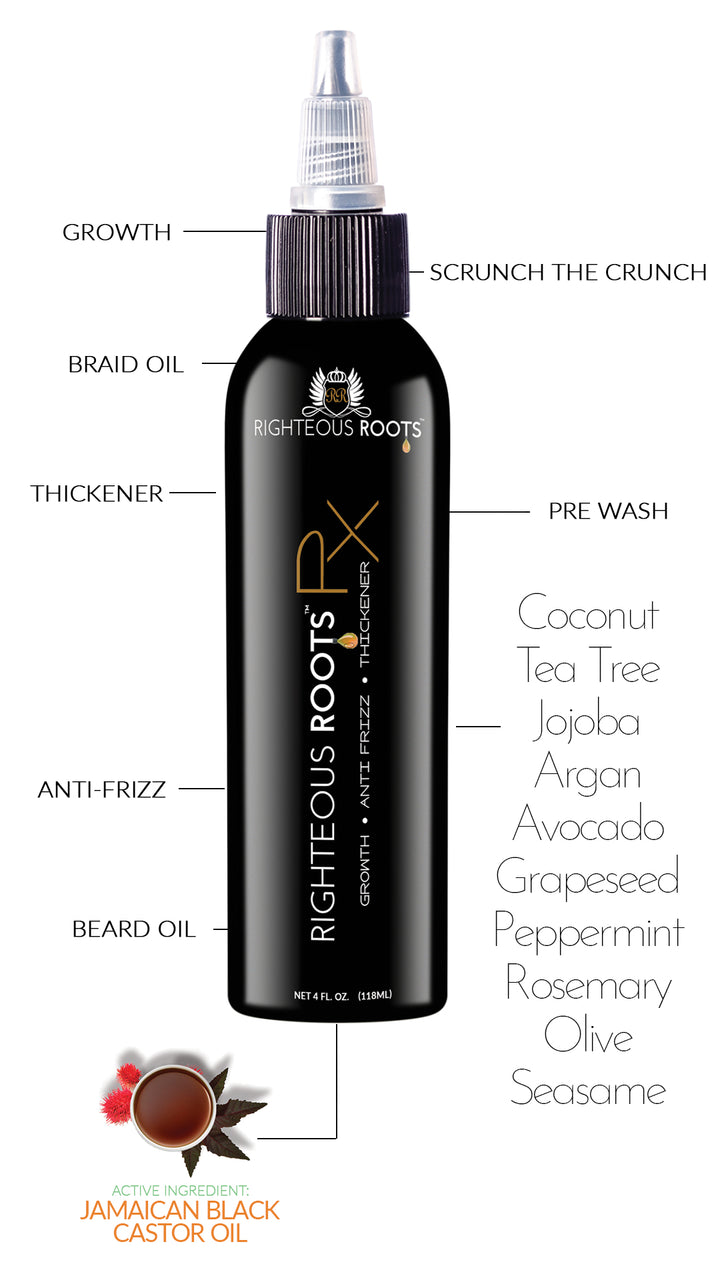 3. The Role of Rosemary:
We don't stop at JBCO; we also infuse our products with rosemary. Rosemary is known for its hair-boosting properties, and it's particularly effective in combating hair loss. It improves circulation to the scalp, which, in turn, encourages hair growth and reduces hair thinning. Try Righteous Roots Rx

4. A Holistic Approach to Hair Health:
Righteous Roots products offer a holistic approach to hair health. We understand that it's not just about regrowing hair; it's about regaining confidence and feeling like yourself again. Our formulas are carefully crafted to provide the nourishment and care your hair deserves, especially when it's in the process of healing and recovery. Try Righteous Roots Rx
.
.
Save with the bundle
Summary:
Breast Cancer Awareness Month is a time for reflection, support, and hope. At Righteous Roots, we stand by those who have faced the challenges of cancer treatment and hair loss.
Our unique blend of JBCO and rosemary has proven to be a powerful ally in regrowing hair, helping clients regain their confidence and feel like themselves once more. As we continue to support those on their journey to recovery, we remain committed to spreading awareness about the importance of post-chemo hair care.
Together, we can restore more than just hair; we can restore confidence and self-assuredness.  Try Righteous Roots Rx