The new Righteous Roots Washday Lineup : A review
May 31, 2022|CURLS, Product Favorites https://curlycurvypassion.com
A washday lineup from a brand I've been using for 5 years you say? Sign me up! 
Righteous Roots has launched their new washday lineup and I could not be more excited to tell you about it now that I've had a chance to use and enjoy it for several weeks. And the best part? I can share my love for this line, with anyone, whether their hair is curly, straight, or somewhere in between!
A brief history of my experience with the Righteous Roots Brand
In 2017, about 6 months after the birth of Curly Curvy Passion, I came across a post about Righteous Roots RX hair rejuvenating serum and I was intrigued. I was fresh off a difficult time of illness in my life, just had a significant length cut from my curls, and was on a mission to take a different approach to my hair & scalp care, after experiencing some medical challenges. The more I learned about the company and the product, the more I was convinced I wanted to try it. It was their only product at the time. I purchased my first bottle, and not long after that, I posted my first impressions and review, just before summer of 2017. I never looked back. It was a time when the use of oils on hair was quite commonly being discussed in the online curly space, as it was heavily borrowing from the natural hair community in its discussions. BUT I had not encountered an oil that worked well for me, in the way I needed. After years working in the professional beauty industry, I had encountered plenty of hair oil or serum type of products. But they were much heavier, much more styling or finishing based, and more occlusive, which is not something I wanted. I wasn't looking for an oil to "seal" my final style and act like a heavy moisture barrier, as much as I was looking for an intentionally made oil that would treat and soothe my scalp while offering other uses & benefits. Righteous Root RX became a staple in my routine from then on. But more on that later.
Exciting New Products 
Thinking of how well & consistently RX has worked in my hair, you can imagine how excited I was to find out they launched a wash day lineup of Shampoo & Conditioner, to compliment the RX. 
Just as I was getting ready to research the line further, convinced I would place an order, Righteous Roots was kind enough to send me a set to try. 
And here's what I love. I love that I can have an opportunity to review products from a company with whom I've maintained a connection for years. As much as I have supported them through my purchases, so too, have they support me and the Curly Curvy Passion brand, beyond just consumers of their products. As creators, we have started several new movements and conversations in the curly social media & blogging space, particularly around the exclusion of curlies with fine and low-density hair in social media marketing. And the team at Righteous Roots has always been one of our biggest fans, while also supporting this movement. They feature and support individuals with textured hair of all types and I love that.  It's a privilege and joy to support them as they expand their range with thoughtfully crafted products.
And let me tell you – these products are GOOD! They are color safe, vegan, cruelty-free, made with love and formulated by science!
Let's break it down 
NEW Citrus Sunshine Clarifying Shampoo (sulfate-free)w/Tea Tree & Grapefruit Peel Oil First Impressions: Amazing quality, gentle yet effective formulation, invigorating & spa-like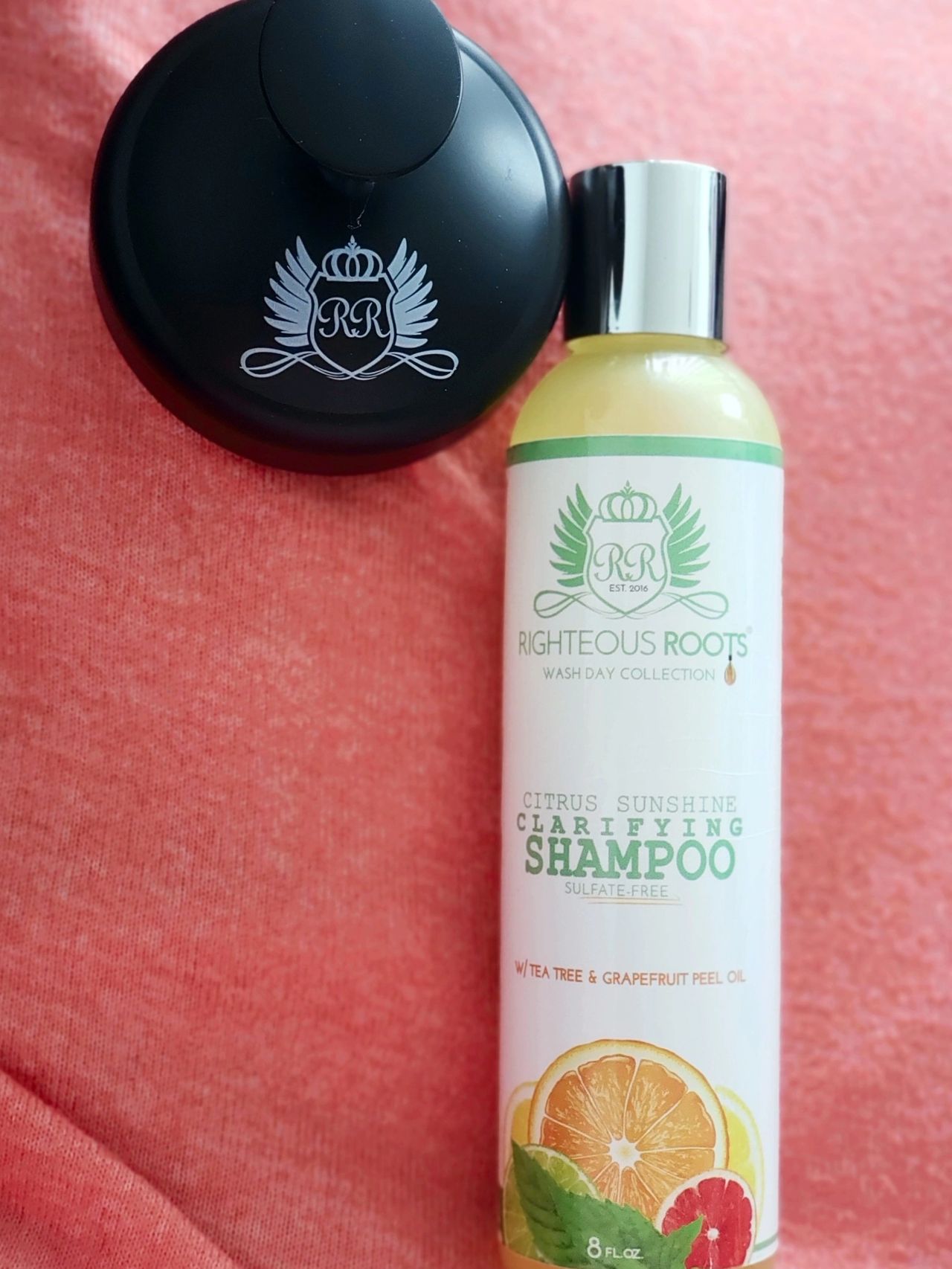 This cleanser is like fresh, crisp, invigorating sunshine in a bottle! I'm a fan of gentle, yet effective clarifying shampoos because of my lifestyle, the climate I live in, and other things, particularly how prone my hair is to buildup. Add to that the fact that I take medication and can sometimes have a delicate scalp and well, you can say I'm picky about what I use. It's no secret that I have discussed how I don't exclusively avoid sulfates, but let me tell you, I love when I don't have to use them on every wash. The trick for me is finding a shampoo formulation that is both effective enough to cleanse my scalp without irritation and successfully remove buildup and styling product, while giving me a clean slate to work with each wash day. And since I'm someone who washes my hair several times a week – some weeks daily, plus I have color-treated hair, using the wrong formulation means I'll be dealing with stripped or dry curls.
This clarifying shampoo is great to use and here's why: 
With a light, pleasant citrus scent, plus the infusion of tea tree & grapefruit peel oils, I love how it's both cleaning enough to remove buildup but also gentle enough to moisturize my curls at the same time. 
It doesn't strip my color. I used it just recently after a color touch up and saw no more bleeding on freshly washed color than I normally do at the first wash.
It has grapefruit peel oil and vitamin C, which help fight off free radicals, improve circulation and impart shine.
Once I fully saturate my hair with water in the shower, I start working in the shampoo, further spreading it with the shampoo brush and I can feel the styling products being washed away, without leaving my hair feeling dry.
Often, people like me who are prone to build up or who use several products for hold when styling their fine curls might wonder if sulfate-free formulations are the way to go. Will they be effective enough to remove stylers, but gentle enough to not strip the hair? I can tell you that I'm a fan of very few of them out there on the market for regular use. But this shampoo makes the cut. 
I'm not sure how they did it, other than a thoughtful selection of ingredients in a formulation that does just what I want. My hair feels clean, and I don't even have to do a double shampoo, which I often feel is necessary with sulfate-free formulas.
A bonus? I'm a huge advocate for the importance of scalp care and do not subscribe to the idea of avoiding the scalp when washing or conditioning….and this shampoo makes my scalp feel great. It feels soothed & clean without feeling tight, stripped or over-moisturized.
2 in 1 Citrus Slip Detangler & Leave-In Conditioner (silicone-free) w/Baobab & Grapefruit  Peel Oil
First Impressions: Invigorating & spa-like formulation, with an incredible feel on the scalp, and a moisturized, detangled feel on the hair strands. 
My fine, and low-density curls love it!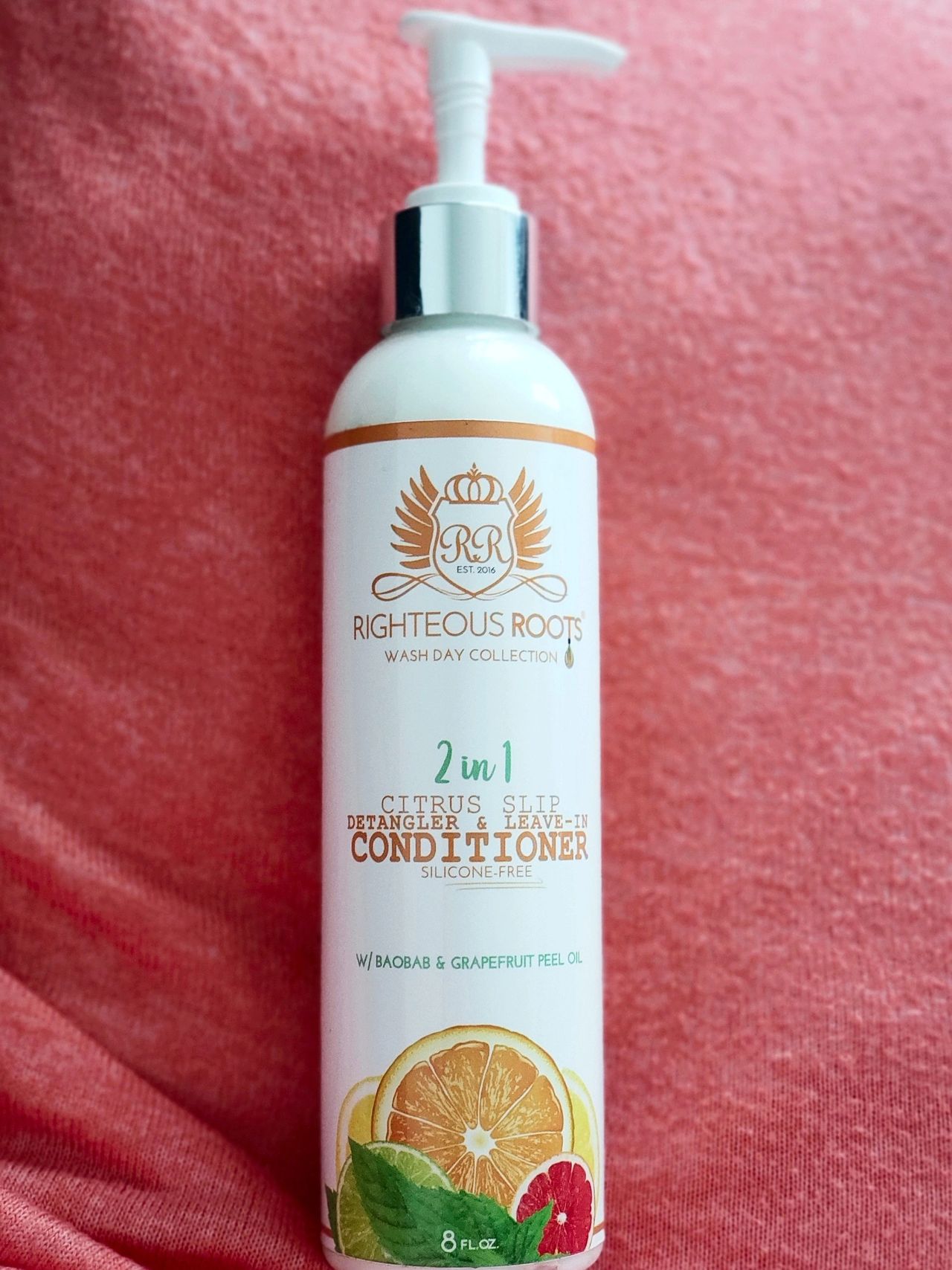 Here again, I can tell that a lot of thought went into this conditioner, and I love the way it works in my hair! With a light, minty-like fragrance, it feels like putting on a treatment mask, but without the weight or overpowering perfume smell. If you can imagine a conditioner being rich, without being thick or heavy, this is it. And here's why:
Having fine, low-density curls means that I can easily struggle to find conditioner formulations that will do everything I need to replenish moisture, detangle my finicky curls, but not leave a heavy film that remains after I rinse it out, because that can make or break my wash day results.
This conditioner works well at melting through any residual tangles I might have, while also providing effective moisture that doesn't feel heavy. I make sure I emulsify it well in my hands, apply it to my wet hair and work it through. It combines beautifully with water, without being too "runny" or too "thick" and rinses away nicely, leaving my hair soft & detangled but not weighed down. I don't know how they did it, but they did it – and without using silicones or heavy ingredients.
Although I don't choose the alternate usage as a leave-in conditioner each time I use it, I did try it once so far and it worked fine when paired with a harder holding styler. This is not to say it cannot work great as a leave-in with any stylers. It comes down to personal preference and what your hair needs or responds well to. I don't always need or choose to use a leave-in and preferred using it as my conditioning step in the shower.
A bonus? This conditioner feels AH-mazing on my scalp! Yes, I said my scalp. As I mentioned before, I don't avoid my scalp during my wash day. Our scalp is skin! We should treat it as such.  I massaged my scalp well with it and it rinsed away cleanly without issue. I love that this conditioner is infused with Righteous Roots' award-winning blend of oils including jojoba, tea tree & peppermint as well as baobab, which all work together to repair split ends, reduce breakage, seal hair follicles and soften the hair.
Living in the hot climate and extreme humidity of south Florida, combined with my preferences and hair's needs, means that I wash my hair often. High quality products are key for me if I'm going to be washing daily or every other day. I can't risk using products that are harsh or will affect the integrity of my curls. So I'm happy I found this washday duo to be one I can count on.
RX - Hair Rejuvenating Serum - I call it my liquid gold in a bottle!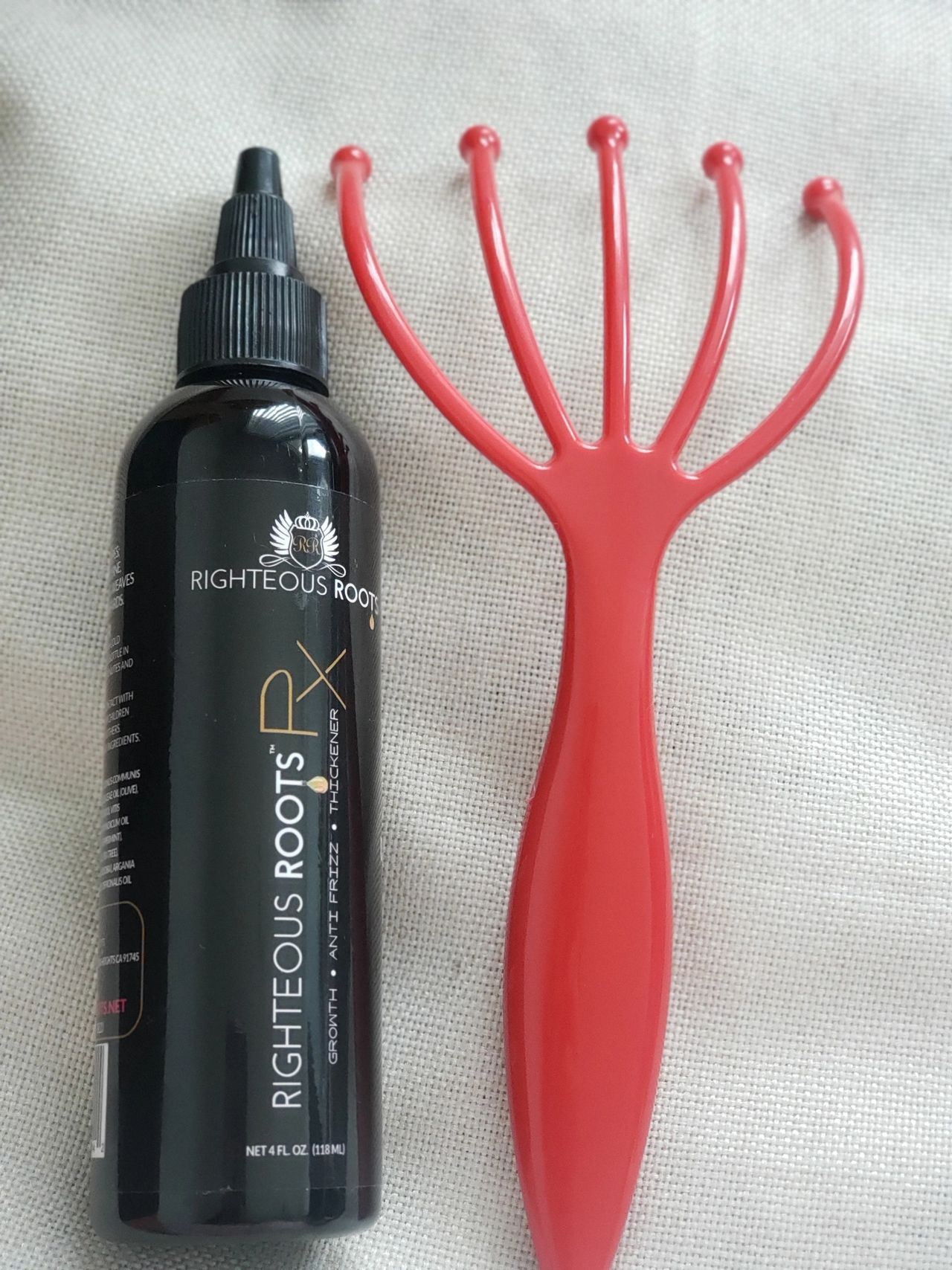 Remember when I said I would circle back to my history with Righteous Roots RX hair rejuvenating serum, here it is…the full circle moment. 
Simply put, RX is the first oil blend product that I have been able to consistently use with results, and no build up. Lightweight but mighty, and a tried and true in my routine for 5 years now, RX has helped me in times when I'm really struggling with my scalp and have to alter my routine for extra care. It has also become a staple in my regular hair care routine. 
Depending on what my hair needs I can:
Use it

 

as a quick "hot oil" treatment, gently heating it in a bowl with warm water.
Add a few drops to my deep conditioner

 

or hair masque of choice.
Use it

 

to gently start the detangling process

 

in times when my curls have taken a beating due to the elements or my lifestyle

 

(such as working out, sun/beach exposure or 2nd day updos on previously styled hair. My hair is not extremely tangle-prone but it is delicate in it's fine texture. Plus, I don't have a whole lot of it (hello, low-density life; so I'm intentional and gentle when I detangle it.)
Just a few drops work great

 

to smooth or scrunch out the cast

 

created by harder holding styling products, without leaving a heavy residue or weighing hair down. Works great on flyaways in my fine hair, too!
Regular scalp massages … my favorite.  Just a few drops of RX on my fingertips or scalp massager feels soothing, calms any itch I might have

 

(hello, living in south Florida's extreme humidity which can lead to scalp sweat). It also helps to promote circulation, which has long been shown in countless studies to help in creating the best environment for health hair. Personally, I have absolutely seen a difference in how much shedding I was experiencing in 2017 compared to now, and it didn't take long to realize RX was a major component in those results.  (see a few posts I shared

 

HERE

 

and

 

HERE

 

.  Also see our IG highlight

 

HERE

 

or our Instagram Guide

 

HERE

 

for other things we've shared over the years about Righteous Roots!

 

  
So there you have it…my in-depth review on the new washday line up from Righteous Roots!
I hope this helps you to gain some perspective and take a second look at these high-quality products from a company that has rightfully owned its place of respect and love in the curly world and beyond. I have seen, firsthand, just as is shared on their website, how this team not only puts heart, soul & science towards the products they sell, but also donate to charities that help communities worldwide, while inspiring folks of all races and textures to embrace their hair, one scalp massage at a time…and now, one wash day at a time!
Will you be trying this line or have you already?  Let us know!
Happy self-caring!
/ J / #CurlyCurvyPassion
To learn more about Righteous Roots, visit their website at: RighteousRoots.net or click HERE.
To check out their washday bundles, click HERE