Ultimate Nighttime Haircare with Righteous Roots Oils and a Premium Satin Bonnet
Your hair deserves the best, especially at night when it needs extra care and nourishment. Here's how to pamper your locks with a luxurious nighttime scalp massage using Righteous Roots Rx and a premium satin bonnet:
Step 1: Gather Your Supplies
Before you begin, make sure you have the following items ready:
Righteous Roots Oil 
A scalp massager or you can use fingers 
A premium satin bonnet.
A soft towel (optional)
/
Step 2: Prepare Your Hair
Start by detangling your hair gently. This step ensures that the oil will be evenly distributed throughout your hair and scalp.
/


Step 3: Apply Righteous Roots Oil

Take a small amount of Righteous Roots Rx and warm it up between your palms.  The warmth will make it easier to spread and enhance its absorption.


Begin by parting your hair in sections. This makes it easier to apply the oil directly to your scalp.
Apply the oil to your scalp, focusing on each section. Use your fingertips to massage it in gently. This massage helps stimulate blood circulation to your scalp, promoting hair growth and relaxation.

Step 4: Protect Your Hair with Righteous Roots Premium Satin Bonnet
Once you've applied the oil and massaged your scalp, it's time to protect your hair with a premium satin bonnet.
Here's why satin is the best choice
Satin is gentle on your hair and minimizes friction, preventing breakage and split ends.
It helps to maintain moisture in your hair and prevents it from drying out.
The smooth surface of satin prevents hair tangles and ensures that your hair maintains its style.
Place your premium satin bonnet over your head, ensuring that all your hair is comfortably nestled inside.
Save with the bundle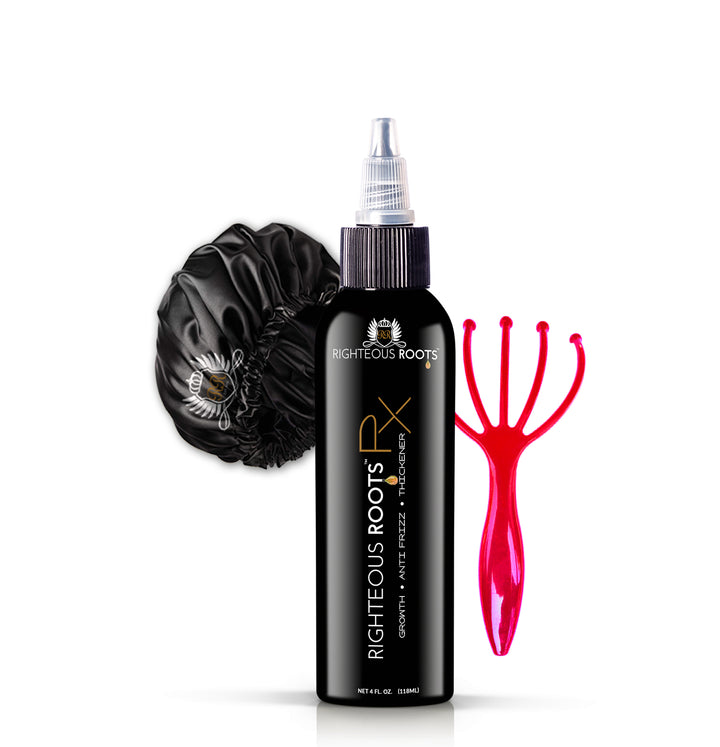 /
Step 5: Relax and Sleep
With your hair safely protected, you can relax and enjoy a peaceful night's sleep. The bonnet will keep your hair in place and prevent any friction against your pillowcase, allowing the Righteous Roots Rx to work its magic while you rest.
.

Step 6: Morning Routine
In the morning, remove the bonnet gently. You'll wake up to well-nourished, moisturized hair and a refreshed scalp.
.
Step 7: Repeat
Repeat this nighttime ritual regularly for healthier, shinier hair over time.
Summary:
By combining the benefits of Righteous Roots Oils with the gentle care of a satin bonnet, you're giving your hair the ultimate nighttime pampering it deserves. Enjoy waking up to beautiful, healthy locks every day!