Achieve a Fuller, Softer Beard with Righteous Roots Rx
Are you tired of dealing with a patchy or unruly beard? Look no further than Righteous Roots Rx to transform your facial hair game.
These magical elixirs are not only effective but also non-greasy, making them the perfect addition to your grooming routine. 
What's in Righteous Roots Rx Beard Oil?
Jamaican Black Castor Oil: This oil is like a superhero for your beard. It helps to strengthen your hair follicles, promoting thicker growth and reducing patchiness. 
Coconut Oil: Coconut oil is famous for its moisturizing properties. It keeps your beard hair soft, manageable, and free from the dreaded beard itch.
Olive Oil: Olive oil nourishes your beard and the skin beneath it, preventing dryness and flakiness. 
Jojoba Oil: Jojoba oil is a close match to your skin's natural oil, making it easily absorbed. It helps to balance the oil production in your skin, preventing excessive greasiness. 
1. Start with a clean beard: Make sure your beard is clean and dry before applying the oil. 
2. Take a few drops: Pour a small amount of Righteous Roots Oil into your palm. Remember, a little goes a long way. 
3. Rub it in: Rub your hands together to distribute the oil evenly and then gently massage it into your beard. Be sure to get it down to the roots. 
.
4. Comb or brush: Using a beard comb or brush, evenly distribute the oil through your beard. This ensures that every strand gets the nourishment it needs. 
5. Style as desired: Style your beard as usual, and you're ready to go. Your beard will be soft, manageable, and smell amazing. 
Try Righteous Roots Rx today, we'll ship it to you for free!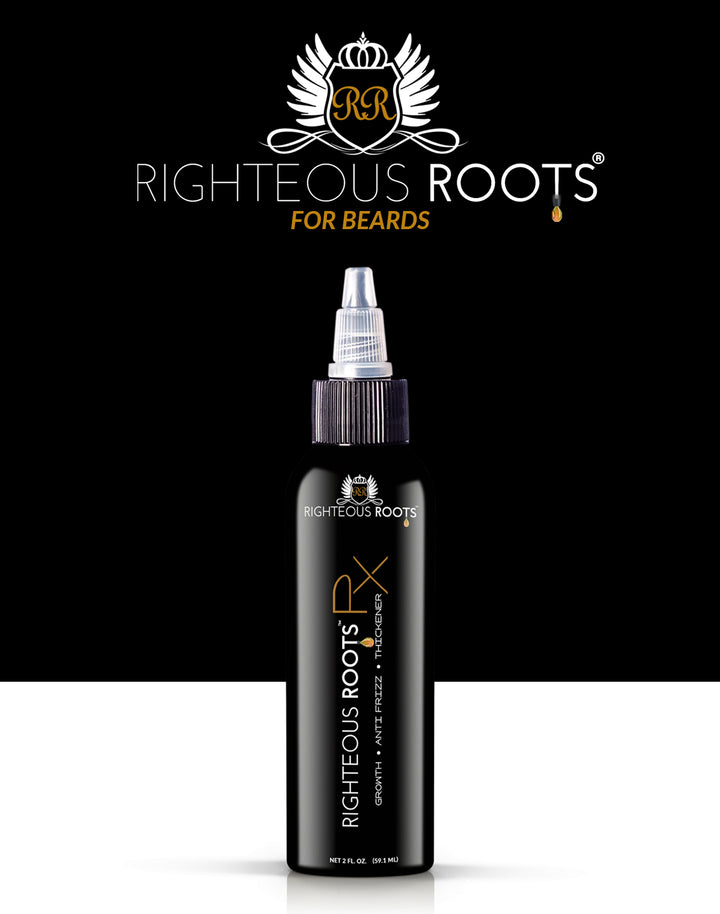 NON GREASY FORMULA
Unlike some beard oils that leave your beard feeling heavy and oily, Righteous Roots Oils absorb quickly, leaving your beard soft and your skin moisturized without that sticky, greasy feeling. 
SUMMARY
So, if you're on a quest for a fuller, softer, and more manageable beard, give Righteous Roots Oils a try. 
Say goodbye to patchiness and hello to a righteous beard that will turn heads wherever you go!